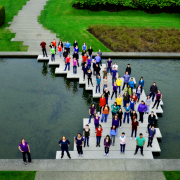 Welcome to the Simon Fraser University Choir!
We are a not-for-profit organization of students, staff, faculty, and community members who sing together once a week at SFU's Burnaby campus (and online while the campus was closed). Our choir was founded in 1992. Since its beginnings, the choir has grown from a small group to a membership of 75-100 singers. We welcome people from all different levels of experience, ranging from those with no music experience to those who have been performing their entire lives. Our club brings musicians together to make a wide variety of music - from South African music and Canadian folk songs, to video game themes and a full-fledged Requiem mass – and we also make many lasting friendships! We love to welcome new members into our group and provide many opportunities to socialize both during and outside of our events.
In 2015, we added a subsidiary to our choir: the SFU Chamber Choir. This group is smaller, with a limited capacity of 16 singers. The SFU Chamber Choir is a more professional group which requires an audition. Anyone may join one, or both choirs. Please note: the SFU Chamber Choir is currently on hiatus until further notice.
Is the SFU Choir for you? Click Look & Listen to check out past performances.
Rehearsals for the SFU Choir happen every Thursday from 5:30 PM-7:30 PM at the Burnaby Campus, during SFU's Fall and Spring semesters. Follow us on social media and click Join Us! for details on upcoming rehearsals and other need-to-know information. Bring yourself and a pencil, and come ready to meet new friends, make awesome music, and have a good time!
Stay tuned for Spring 2024 First Rehearsal date!
We look forward to seeing you!
Instagram | @sfuchoir_official
Facebook • YouTube | @sfuchoir
Discord  |  https://discord.com/invite/jQCA9Nb